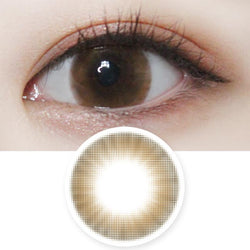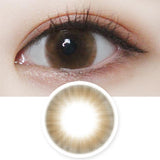 I CONTACTS-pair
Dreamy Sumba brown contacts - Monthly
DESCRIPTION
Dreamy Sumba brown contacts Natural Contact Lenses
Natural Brown eyes, 1 Box (2 Lenses)
Cosmetic Circle Lenses, Chocolate Brown Colored Contact Lenses.
1 PAIR (2 lenses) + Free Lens Case

Brand
ICK (I-CONTACTS)
Life Span

1 Month

Diameter
14.0mm
Graphic Diameter
13.2mm
Water Content

38 %

Base Curve
8.6mm
Origin
South Korea
I Contacts ( ICK )
sandwich process
We only use colors which have been approved by the US FDA in between the lens layers, so there is no loss or change in color. Our patent also allows for a comfortable fit.
Comfortable fit
We apply multiple curves in the front to make the lens thinner and our calculated edge curve allows for better fit to the curves of the cornea, which allows for better flow of tears and moist feeling.
Clear sight
3Curve edge multi aspheric design provides continues support for flow of tears and maintain a comfortable fit, as well as a clean and clear sight.
Life Span : 1months, 3months, 6months, 6~12months
If the Life Span is 6~12months, Life Span Recommended is 6 months. However, depending on how the contact lens is managed and preserved, it can be used for a year (12months) at maximum.
Soft Contact Lens
Brand
I Contacts ( ICK )
※ Please use contact lenses correctly to protect your eyes.
Read more → GUIDE TO COLORED CONTACTS & HOW TO USE
▷SHIPPING METHOD
In case of customization, please understand that there may be a delay according to the production condition of the factory.
1. International Speed airmail :
Free shipping for every purchase over $75 regardless to the country.
Regardless to the quantity and regions, $5~$8.5 are imposed per every order. This is the most reasonable method for getting the purchased product, the delivery may take more or less time according to the destination.
2.EMS (Speed ​​Post) :
The delivery fee ranges from US $18~ $28, This method is recommended for the customers who want to receive what they purchased as soon as possible. In case or purchasing more than 3 sets, we divide them and send it through airmail for the issues related to customs. EMS needs the recipient's signature.
If you purchase 3 sets or more
EMS delivery(2~3sets) + International Speed airmail (remainder+set)
If you are absent, you must receive it directly at the post office.
▷Shipping Time
Colored Contacts & Circle Lenses
Speed airmail (10~15 days) + customizing time (3~5 days) = approximately 2 ~ 3 weeks.
EMS (5~7 Business Day ) + customizing time (3~5 days) = approximately 1 ~ 2 weeks
Prescription (Power) RX : -8.50 ~ -15.00 : customizing time (7~14 days)
Please notice that the delivery may be delayed due to the delivery company's circumstances. We will try to deliver it as soon as possible.
Please understand that the delivery charge can vary depending on the country and the region.
You can check the ESTIMATE SHIPPING at the lower of the cart page after you put the product in the cart.